MHS Principal Clain to Retire in June
After 11 years leading Mamaroneck High School, Principal Elizabeth Clain will graduate with the class of 2022.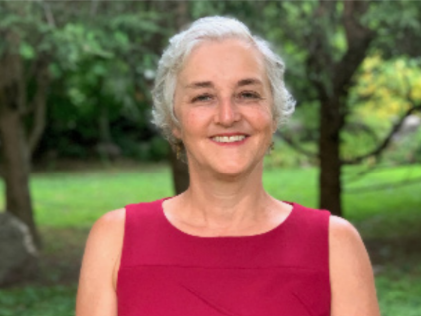 Elizabeth Clain, Mamaroneck High School's principal for the last 11 years, announced her retirement on January 12, 2022. Clain has had an impressive career in education, spanning numerous districts, positions, and cities. With the help of her colleagues, she has incorporated many new classes into MHS, such as the AP Language and Composition course and Computer Science courses. Without Ms. Clain, our school would likely look very different from how it is today.
Ms. Clain began her teaching career in New York City. "I worked in New York City for six years," said Clain. "I was a social studies teacher in four different schools there." Clain had been the social studies chairperson at MHS for 8 years when she was elected to the committee to find a new principal. After a search for a principal, there was nobody that the committee found to be an excellent fit for MHS. "There was an interim [principal] for a year, and then we did another search," said Clain. "They still didn't find anybody, so the superintendent tapped me on the shoulder and asked me if I wanted to apply. I applied, and here I am."
Clain also commented on the upcoming search for a new principal. She thinks that the committee responsible for finding her replacement will be very similar to the one that she was on 11 years ago. "There will be students, parents, teachers, and administrators on this committee, and that's how we conduct all our searches." Clain believes it is up to the community to find a worthy replacement for her who will continue MHS's principle of having administrators take a genuine interest in their students' lives.
When asked what she would miss most about MHS and its community, Clain said the relationships with students. " [11th graders now] don't know me in the way that I think 11th graders from four years ago would know me," said Clain. She explained that the pandemic has created difficult challenges for creating new relationships with students. Usually, by the time students are seniors, Clain "knows a lot of them, by name and by face." However, the COVID-19 social distancing restrictions have made these relationships strained. "I just watched the MLK assembly," said Clain. "Normally, I would stop kids in the hall and say 'Oh my God, that was a beautiful dance,' [or,] 'your speech was so moving.' I'm not even going to be able to recognize those kids because of the masks." Clain has worked with teenagers her whole career, and it's "what [she] loves doing."
In addition to the relationships with students, Clain was quick to mention her connection with staff. "I just have real, huge respect for the work our faculty has put in, over the past two years specifically." Generally, Clain thinks that the MHS faculty is an incredible group of people who are determined to help students reach their full potential. In fact, Clain is responsible for hiring 60-70% of the staff that is currently working at MHS.
In terms of Clain's legacy, she has left behind numerous projects that will be started in the near future, in addition to the previous programs she has brought in. Eight years ago, Clain created Mamaroneck Scholars, which "actively recruit[s] and support[s] first-generation students and students of color to participate in AP Classes." During the 2015-2016 school year, Clain enabled any student to take an Advanced Placement course without regard to previous grades, something that many students have been able to take advantage of since. MHS's lack of prerequisites has allowed students greater access to AP and honors courses, especially first-generation students.
For the past two years, 9th grade English and Social Studies classes have started with a "Facing History and Ourselves" unit. This curriculum, with units on racism and identity, aims to "build community and a sense of common language and expectations for the four years that students will spend at MHS."
In addition to these programs, Clain is responsible for the collaborative design course, the revamping of the culinary program, and the rethinking of the Transition Academy for MHS's disabled students. Culinary used to be closer to a traditional home economics course, whereas it now consists of more hands-on cooking. Additionally, Clain has set in place "an incredibly new, state-of-the-art kitchen that will be built, hopefully, by September." The culinary construction project is one of three projects being completed after Clain leaves in September 2022. Another one of these projects is a "STEAM [Science, Technology, Engineering, Arts, Mathematics] area in the middle of the school on the third floor." An additional project is revamping the Japanese garden on the first floor of the Palmer wing of MHS, where Clain's goal is to create an "outdoor learning environment, where kids can eat lunch, meditate, and hang out [during their free time]." Clain expressed profusely that she takes no credit for these changes herself and could not have done any of this without the support of her colleagues and the administration for inspiring these ideas in the first place.
Overall, Ms. Clain has had a pMHS Principal Clain to Retire in Junerofound impact on students and faculty alike. MHS's infrastructure has improved dramatically, and she deserves more credit than she gives herself. The entire Mamaroneck High School community commends her for all she has done for the school and wishes her well in all her future endeavors.