Valedictorian Huang and Salutatorian Moore Stand Out in Graduating Class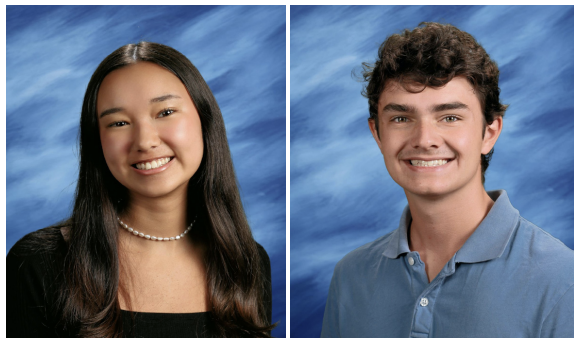 This year's Valedictorian Melanie (Mel) Huang, and Salutatorian Church (Chuck) Moore, have a lot to be proud of. Throughout the last four, very rigorous years, Huang and Moore displayed their abilities not only through academics but through their willingness to take on various challenges both in and outside the classroom.  
Throughout her time at MHS, Mel Haung consistently proved her talent and intelligence. In school, Haung maintained an impressive academic record despite her extremely challenging schedule junior and senior year, taking some of the most demanding advanced placement classes, including Physics 1 and BC Calculus. She really appreciates the broad course range MHS offers, her favorite classes varying from AP Studio Art to AP BC Calculus to the Social Justice English Elective. 
Despite such a challenging course load, Huang found time to explore her passions and build a strong extracurricular profile. Such abilities are highlighted through Huang's time spent on the tennis courts and within the band room. Having played both varsity doubles and singles on the girl's tennis team, Huang holds her own on the tennis court as a great baseline player and was one of the individuals selected to represent her team at sectionals this past fall. 
In addition to tennis, Huang has spent the past four years as a critical member of the MHS musical department as a flutist. Aside from participating in the MHS band program, Huang completed hundreds of extra hours of practice at the Larchmont Music Academy. Huang notes the crucial role playing an instrument has had on her life and "how much [she] owes to [her] teacher, Claudia Huter." When asked about Huang as a student MHS band teacher Timothy Hooker, who had the pleasure to act as both Huang's band teacher and tennis coach, expressed great praise. Hooker noted how Huang came "ready to play each day with a great smile on her face" and what a great team player she was. Additionally, he emphasized her "maturity and her ability to make it 'game day' every day." 
Despite Haung's various accomplishments, such as a nomination for all-nationals for flute, she still considers Valedictorian to be her most prized accomplishment, as it reflects her continuous academic effort and dedication over the past four years. This upcoming fall, Huang will be attending Cornell University where she will major in industrial labor relations. While she looks forward to the year ahead, Huang also wants to acknowledge the challenges of the college admissions process and urges underclassmen who are soon to experience it to remain calm and optimistic as "everything will work out." 
Huang intends to spend her last summer home as a time to relax alongside friends and family before embarking on the next chapter of her life and looks forward to the various new connections she will make at college. When asked what advice she wants to leave with current MHS students, Huang encourages students to "take exciting classes, join interesting clubs, go to all the events and sports games you can, make lasting relationships with your teachers and friends, and cherish time with your friends and family to truly make the most of your high school years!"
Throughout his time at MHS, Salutatorian Chuck Moore left his mark not only in the classroom, but also on the tennis court and within the broader community through his Original Civil Research and Action (OCRA) project. 
This year, Moore's most demanding courses included AP Physics C, AP BC Calculus, AP Literature, and AP Macroeconomics. Junior year was not light either, as Moore challenged himself by taking AP Physics 1, AP US History, and AP Language and Composition. Largely thought of as the most difficult advanced placement class, Moore found Physics C to be one "of the more rewarding parts of high school" as he watched his understanding of complex concepts improve. Additionally, Moore greatly enjoyed AP Macroeconomics as it broadened his horizons, allowing him to establish a real passion for economics that he will continue to pursue into college. 
Outside of the classroom Moore has dedicated large sums of his time to his OCRA project, which he considers to be his most meaningful accomplishment. Alongside two group members, Moore established the "Dinner and a Movie" initiative, an outdoor, social-distanced entertainment service that initially aimed to support local eateries and storefronts that struggled during the wake of the pandemic and raise money to contribute to local relief efforts following Hurricane Ida in September 2021. After raising $5,000 in revenue for local business and collecting over $4,000 in donations for flood relief, the purpose of the service shifted. Currently, "Dinner and a Movie" supports the Mamaroneck Hunger Task Force, a local organization that hopes to decrease food insecurity amongst lower-income families. Since this transition, "Dinner and a Movie" has raised approximately $2,000 for the Hunger Task Force. 
Moore greatly enjoyed his time spent with the Boys' Tennis Team. He really appreciates the close-knit community that the team provides, and had a lot of fun last season during their State Championship run. This year, Moore serves as a captain and has done a great job carrying forward the team's talent and legacy. 
In addition to taking part in these programs, Moore held the position of president of both the Investment Club and Chinese Club this past year, as well as serving as a representative on  Student Council. 
This fall, Moore will be attending Duke University, where he will be majoring in Economics and minoring in Finance. He looks forward to meeting "all sorts of new people and building fresh relationships," in addition to taking the "opportunity for academic exploration" that university provides.