Mother-Daughter Mask Operation Helps Community
Roseanne and Alyssa Amolis teamed up to provide masks to a community, and money for those in need.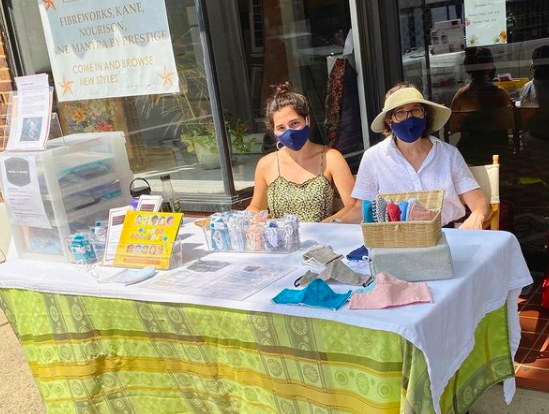 During the past few months, the Mamaroneck and Larchmont  community has had to come together more than ever in an attempt to combat the devastating effects of the pandemic on our town. Mother and daughter duo, Roseanne and Alyssa Amoils, both Larchmont residents, have taken this to the next level. They have started a local Non-Profit Organization known as Masks for Money where they sew masks, sell them, and give the proceeds to the Community Resource Center (www.crcny.org). They hire women from nearby who have lost their jobs due to COVID as seamstresses.
When asked how the organization began, Alyssa described that she had been sent home from college a few months ago and had nothing to do with herself. She wanted structure to her day, and to find something she could focus and spend time on. She began to discuss with her mom some ideas and, naturally, COVID came up. While brainstorming on that topic, they thought about how dire the need for masks was at the moment. After careful discussion, they landed upon the idea of sewing masks themselves, selling them, then donating the proceeds to the Community Resource Center's Emergency Assistance Fund. Neither of them knew how to sew, which led to the idea that they could hire local women who are out of jobs due to the pandemic and have them sew the masks for pay. They immediately shared their idea with the Community Resource Center, who loved it right away, and offered to fund it and pay the seamstresses for their work. Just like that, Masks for Money was a go.
Roseanne and Alyssa began to spread the word, and the business took off. Many local unemployed women reached out to them after hearing about this great opportunity to make money while helping others in need. They had the seamstresses make as many masks as they could, and because of the widespread need for masks, they ended up selling a huge majority of them, and fast. Residents of the town loved the idea because you never can have enough masks, and purchasing from the organization gave money toward a great cause.
When asked what they have personally gotten out of this experience, Alyssa said that at first she thought of this as just something that would help her get a job and keep her busy while at home. But after working with this organization for a little while and meeting some of the seamstresses, she began to realize that what she was doing was actually very important and that she was helping so many people. Masks for Money has raised over $3000 for the local Community Resource Center and still has nearly 500 masks left that are available to buy. Roseanne and Alyssa's dedication and noble efforts have inspired many and provided relief to those in need. 
Buy a Mask, make a difference!
Facebook & Instagram: @masksformoney
Email: [email protected]