OCRA Students Hold Backyard Movie Nights to Support Local Businesses as Customers Fade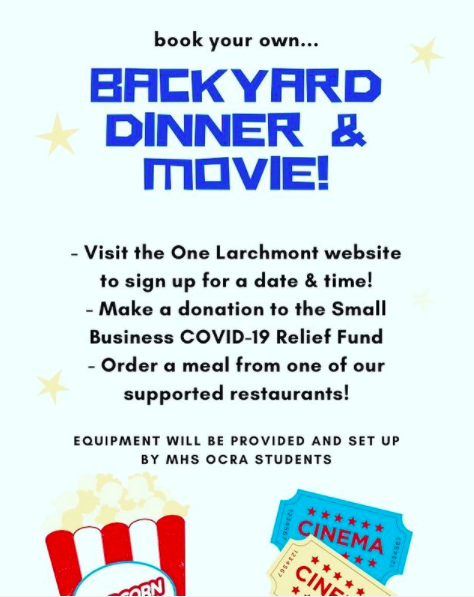 The Original Civic Research & Action program, or as it's better known, "OCRA", has been at MHS for three years now with the mission to give students the opportunity to take initiative within their community and find possible solutions for the problems they see in Larchmont and Mamaroneck. Students in the program spend their freshman and sophomore years working to identify important issues that affect the community, and by the time they are juniors and seniors, they are working to find a way to resolve or at least improve them. Marianna Day, Zack Schwab, Riley Moore, Nicky McDonald, and Ella Garrett, a group of seniors in the OCRA program, have created a project that is one of many innovative initiatives coming e from the program. This particular project tackles an issue that's very relevant in our community, especially during the pandemic: the lack of support for local businesses. 
 Every weekend, the five students plan to bring a portable screen and projector to the home of a Larchmont family that's signed up for Backyard Movie Night, as the initiative is called, and, in return, the family orders from a local Larchmont restaurant and donates to a small business fund created by the local non-profit, One Larchmont. After being introduced to the idea by their teacher, Mr. Liberti, this past summer, the group began putting the idea into action in September, and were able to actually launch it at the beginning of October. Backyard Movie Night has been booked every weekend since then, and the plan is to keep the project going until the town loses interest.
Contrary to what one might expect, given how especially necessary the project is in the pandemic, Day says that the group had already decided that they wanted to address the lack of support for local businesses during their freshman year after a community concerns survey they conducted yielded a frequent complaint that "the business district [had] many storefront vacancies and foot traffic [was] lower." Instead of being the cause of Larchmont's struggling business community, COVID-19 rather made their struggle even worse, leading many businesses to temporarily close or even shut down, as was the case for Larchmont Avenue's beloved Auray Gourmet. Day agrees, saying that the coronavirus "made what we are doing with the downtown area so much more important because the decline in businesses [due to COVID] has [been] tougher on local eateries and businesses especially."
According to Day, the overall goal of the initiative is to "[support] One Larchmont and their mission to help out the businesses struggling during this time, as well as do our own part by encouraging people to order from a local restaurant in hopes [of keeping] these businesses afloat." She says, what they're doing "may not seem like a big deal but if we continue this and every weekend [find] a different family, then bring the issue to many residents' attention and then they will in turn, hopefully, [continue to] order locally on their own." It may seem like a  small initiative, but it could ultimately be what saves the extremely vulnerable Larchmont business district.