Student Athletes Face Mental Health Challenges
How 2020 has changed the game for the wellbeing of many student athletes.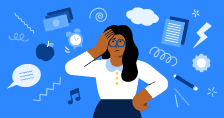 As Covid-19 cases continue to rise in America, it is still uncertain whether or not the winter season will occur for some high school sports. However, having these sports seasons may help some athletes to better their mental health during these unprecedented times. COVID-19 is something that has caused stress for everyone everywhere, and especially teenagers. By having a season, or at least team practices, this can help student athletes improve their mental health as the stresses of the pandemic and school continue to weigh on them. 
While it is obviously a safety concern, there are many positives to having different sports this year. According to the National Council of Youth Sports, "physical activity releases naturally uplifting endorphins, reduces the stress hormone cortisol, and stimulates norepinephrine, which improves mood." Additionally, without the physical activity most athletes get from practice or games, a large part of teens' lives will be lacking, which could possibly hurt their daily mood. The National Council of Youth Sports also states that team sports can create "a sense of community" and gives the ability to "foster authentic relationships and socialization." This is a feeling that people our age should have and is extremely necessary. 
Libby Stafford ('23), a member of the MHS JV tennis team, said that "being a part of a team is really fun," along with the fact that "they are always there if you need it." In just a few short months, Stafford was able to create a strong bond with her teammates that she can keep with her for a long time. Along with this, Katie Loga ('23), a member of the Girls' Varsity Soccer team had a similar opinion saying that "when you join a team, you get a group of people that you can tell anything to and will support you through your highs and lows." 
Not only does playing a team sport give athletes a strong bond with their teammates, but it also puts players in a position to improve their mental health greatly. After asking Loga whether or not she thought her mental health had increased during the fall season, she said, "I definitely think sports have had a positive impact on my mental health… they give me an opportunity to escape from any stressors I may be dealing with." 
However, undoubtedly, safety is the most important aspect in this situation. It is of utmost importance that our community stays safe during these times and limits the spread of COVID-19 as much as possible. Even if sports may have some benefits to some students at the high school, they should not be happening if they pose a threat to the school or our surrounding community. Although most athletes will want their season, it is important to recognize the dangers sports may have on the people and that they should only occur if it is said that they are safe. 
All in all, if upcoming sports seasons are fortunate enough to occur, there will definitely be benefits when it comes to the players and their mental health. We can only hope that these seasons do occur so that athletes at MHS get to experience fun and have their mental health boosted by the great environment of a team sport.