2020-2021 Winter Sports Update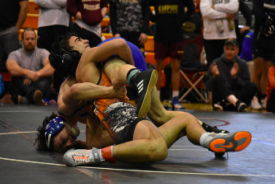 With a good 30% of MHS students that are student athletes, sports are an essential part of the MHS extracurricular scene. This winter, though, these students face the worry of whether or not their season will even happen due to the ever-present threat of COVID-19. Most MHS fall sport seasons–with the exception of football, cheerleading, girls' swimming, and volleyball–were able to take place with COVID safety precautions in place; athletes wore masks on the field and distanced whenever possible. But now, with New York COVID cases on the rise, administrators are faced with the question: is it possible for winter sports to happen safely or even at all, especially given that many of these sports take place indoors?
Well, the Section One Executive Committee of the New York State Public High School Athletic Association (NYSPHSAA), which oversees sports in Westchester County among others, has given us an answer to that question: not yet. On November 17th, the committee announced that all New York high risk high school sports (at MHS, these are basketball, cheerleading, ice hockey, and wrestling) will now be starting on January 4th of 2021. Then, three days later, they moved the start of low risk winter sports (bowling, fencing, gymnastics, skiing, boys swimming, and indoor track and field) to the same date. Winter sports will be starting on the latest date in MHS history.
Todd Santabarbara, the director of the committee, says that the decision they've made "affords school districts additional time to effectively transition and plan for the start of a winter season in a safe and responsible manner," and while many MHS student athletes and coaches might agree with this statement, they are disappointed to hear about the delay. Cathleen Ferguson, the MHS Swim and Dive coach, has already dealt with several months of COVID delays. Over the summer, she watched as the state debated the safety of the fall swim and dive season, which was eventually postponed to March. Now, days away from their November start date, Ferguson once again has to break the bad news to her team. "It was a disappointment for the setback of the date, but totally understandable with the COVID numbers' current rise in neighboring towns." She's remaining positive, as she noted how several of her swimmers have already reached out to ask what supplemental exercise they should be doing to prepare for the season. "I think if the boys come ready on January 4th we will be able to see some personal best times," Ferguson added. Hopefully January will come through for Ferguson and her teams, but she says in the end, "it is what it is…safety first always."
The MHS Cheerleading team has a unique perspective due to their multiple seasons; they already faced the cancellation of their fall season, and now have to compensate for the setbacks derived from a further delayed winter season. Varsity Cheer Captain Sarah Jonas ('21) said that she and her co-captain Michaela Williams ('21) "had prepared many ideas and routines for football and basketball games, events like pep rally, and so much more," and that it is very much "upsetting to see that our hard work in preparation for these events will not be used for now, and maybe not even this year." Regarding the spectacular stunts that the cheer team is known for, Jonas commented "If the winter season does eventually happen, despite delay, we will have to start from square one in many cases, especially stunting. In a normal, pre-COVID world, our cheer teams, especially varsity, would be ready to learn more complicated stunting sequences during our winter season. But because we have lost fall, and now are experiencing a delay for winter, we are really set back in the stunting department."
There is no doubt that this delay will have its drawbacks for all of the MHS sports teams affected by it, but hopefully, it will function to create a safe sporting environment for all winter athletes by the time they are allowed to get back together.