Mamaroneck Schools Celebrate Black History Month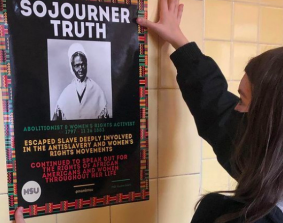 Throughout February, Mamaroneck High School, along with the rest of the Mamaroneck Union Free School District, celebrated Black History Month to honor contributions Black communities have made to the country and local community. While it was harder to celebrate during a pandemic, the district still tried its best to integrate education of black history into the six schools through education of staff members, initiatives to bring anti-racist and diverse curriculum into English and Social Studies classes, and student engagement in a culturally-aware and safe environment. Much of the work done throughout on Black History Month was spear-headed by the District Equity Team, a group of 46 teachers, administrators, and members of local, non-profit organizations who are dedicated to develop a more inclusive curriculum, create equal opportunities for all students, and dismantle inequitable policies in the district. 
At MHS, students from the Multicultural Student Union, previously known as the Multicultural Club, planned several activities for Black History Month, most notably the hanging of large posters in the hallways. These posters highlighted important, historical figures who were/are Black, including Kobe Bryant, Frederick Douglass, and Vice President Kamala Harris, and educated passing students and faculty on the impact Black community has had on the country. Additionally, several posts were shared on the MSU's instagram, @mamkmsu, that informed students of resources and opportunities available to learn more about Black History Month. All of the work done by the MSU for Black History Month was organized by Emilia Pantigoso ('21) and Jacinta Smith ('21), two of the co-founders and Presidents of the MSU.
MHS has also emphasized the ongoing racial equity work being done at the school in celebration of Black History Month. It is the second year of the school's partnership with Facing History and Ourselves and integrating content about privilege, bias, and black history into ninth grade curriculums. Member of the District Equity Team and MHS English teachers have been leading staff members from across the district in a discussion group about changes that can be made to individually, curricularly, and organizationally to shift towards social justice and equity. 
Additionally, MHS English teacher MaryBeth Jordan, recently concluded a unit introduced to her Freshman classes this year focusing on "Change Makers." The unit is inspired by her time at The New York Times Teaching Project and taught students how individuals can be agents for social change. 
Paisley Flammenbaum ('24), a student in Jordan's English class, explained how, after seeing so many people speak up and call for change at Black Lives Matter protests this summer in response to the death of George Floyd and other Black Americans, she "really enjoyed  getting to hear about the minds behind setting up rallies." She found it, " super inspiring to see so many change makers come together to fight for such an important movement" and felt it was, "necessary to talk about change makers at a time when we needed them most." 
At other schools in the district, Black History Month has also been celebrated. At Hommocks Middle School, there have been morning announcements that recognize Black figures and students groups and posters similar to those of the MSU were hung in the commons. Chatsworth Elementary School has introduced Books of the Month highlighting diverse characters and Murray Avenue School engaged in an all grades celebration of local Black history and created a traditional Adrinka quilt with pieces from the entire community. At Mamaroneck Avenue School, staff has been working to understand and unpack Sharon Ravitch's work on "Flux Pedagogy and Leadership" and diversity, equity, and inclusion in anticipation of her upcoming visit to the school (Ravitch is a professor at the Graduate School of Education at University of Pennsylvania and is known for her work in these areas).
Kayla Yan, a local activist and another co-founder and President of the MSU, believes this celebration of Black History month is "very vital to the Black community" because it is "important for white allies to be aware of the history of Black History Month and where we are going with it." She hopes the work done throughout the month and during the district's ongoing work in terms of diversity and inclusion will lead to a "future for both black students and for white students to collaborate and work together" more harmoniously.