Students Create Virtual MLK Day Assembly
The Student Multicultural Union continues the Martin Luther King Day tradition in hybrid model.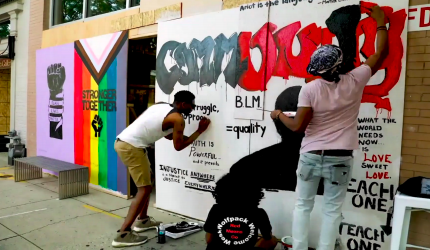 To start the new year, after a year of chaos and a year of fighting back, Mamaroneck High School's Martin Luther King Assembly was a perfect reminder of our nation's empowering past. This past year, the eyes of our nation were opened to the horrors people of color endure daily through discrimination and police brutality. Although society is said to have progressed over time, recently we have been exposed to situations not too different from those of the times of Martin Luther King Jr. 
Put together by the Multicultural Student Union (MSU), the first-ever online MLK Assembly referenced events of this past year as well as those that occurred 60 years ago. Incorporating various art forms, such as art, dance, and literature, students took matters into their own hands as they expressed the importance of this MLK Day through their extraordinary display. 
The first act included street art, step dancing, singers, and recited messages that the students of Mamaroneck High School wanted to share with the community. These included excerpts from "The Other America" and more. Art from all over the community was incorporated in the video, bringing color to the issues of racism. Jordan Reilly ('21), who sang "The Climb" by Miley Cyrus, stated, "I thought this song was perfect because it matches well with the theme of the assembly, 'Breakthrough.' The Climb is all about that – even though we all have a long way to go, we should enjoy the journey and keep faith that there is light at the end of the tunnel." "The Climb" was a moving performance that reminded viewers that there will always be tough times ahead but it is what we do to solve those problems that really counts. 
The Assembly continued with clips of the performance by the Philadelphia Team at Brave New Voices 2015 Finals, "Emmet." This chilling performance brought awareness to the gruesome death of Emmet Till, a fourteen year old boy brutally murdered by two white men, for allegedly flirting with a white woman. 
Brittney Urritia ('21), who performed as a step-dancer with a few other students in front of murals across the community, said that the work took a lot of time on Zoom calls, and student performers, such as the step-dancers, met outside of their classes to prepare for the big day. MSU had students sign up for their respective roles and each performer was given a set due date for them to complete their respective parts. Despite the circumstances, this year's assembly was the perfect opportunity to see a different but exciting new version of a traditional assembly and let the creativity of Mamaroneck High School students flow. "The thought behind the creation was to incorporate all elements of what MLK means to us, but most importantly the idea of a breakthrough. We wanted to demonstrate that there are various ways of being bold and breaking through barriers, whether that be through music, dance, historical figures, spoken word, art, etc.," mentioned Urritia. 
From musicians to images of the Black Lives Matter protests and the Civil Rights Movement, students saw a variety of art forms. Some students even performed original poems, adding to the heartache of what this year has been. Thomas Gelles ('23) who wrote an original poem said, "I wanted as much creative freedom as possible to write something that would act as a microcosm for the entire assembly and thoroughly paint the entire picture of both the problem and how we can solve it." He went on to say that he believes we are going through the "biggest social upheaval in decades" and if we want to see progress as a country, we need to participate in that upheaval. 
MSU wrapped up the presentation by calling back to important leaders in Mamaroneck. Mr. Yizar and Mrs. Turner-Porter, who retired last year, were both inspiring figures who pushed people to fight back against oppression. Mr. Yizar was an inspirational member of our school, working as a Youth Services Worker. He also worked in Mamaroneck athletics and Westchester Basketball. His efforts did not go unnoticed as he was recognized as a, "pillar of this community." Yet, his efforts were not the only ones to be noticed. Mrs. Turner-Porter was a key figure in our school who students looked up to in times of need. Most known for her leadership in the MLK Assembly, producing the event without her this year was very different. Inspired by her past efforts in the MLK assembly, students were able to create a whole new project pertaining to this year. With the support of the video students, administration, and the MSU members, this eye-opening assembly touched the hearts of all who watched it. 
Empowered and driven to make change in their community, MSU members took the opportunity to make this assembly more powerful than ever. To get involved, join MSU at their next meeting, on Focus Fridays from 1:30-2:10 pm. Also, do not hesitate to look at their website for more information. The club is always looking for students to join them and help make our community a better place for everyone.