MHS Musicians Prepare for Virtual NYSSMA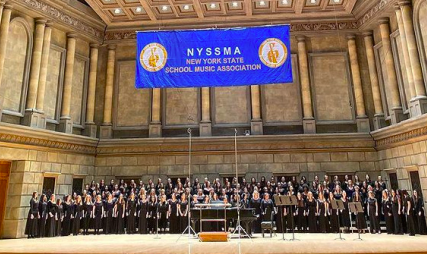 Anyone who is a member of the MHS Music Department has probably heard of the annual NYSSMA (New York State School Music Association) festival, if not having directly participated in it themself. For non-music students who may not have, NYSSMA is perhaps the biggest music festival New York State has to offer for elementary to high school students looking to be evaluated on their musicianship in any of the following areas: vocal, orchestral, band, jazz, and piano. Many high school students who choose to participate will spend several months preparing a piece in hopes of getting a target score they've set their mind on, and the most ambitious ones strive to earn a spot in one of the All-State ensembles. These All-State ensembles are highly selective honors groups made up of the top students from school music departments throughout New York State. In other words, the NYSSMA festival is a pretty big deal. Every year, a large portion of the MHS music department chooses to embrace its challenge and participate.  
Unfortunately, for these students, last year's festival, which was meant to take place at some point in May, was cancelled due to the COVID-19 pandemic. The virus had first spread to the U.S. just a couple months before, leaving very little time for potential alternative arrangements to be made for the large in-person festival. Some MHS students opted to send in recordings to be evaluated via a Mock NYSSMA audition offered by the Larchmont Music Academy, but this was obviously not an ideal alternative, especially for juniors who would be missing out on their last shot at auditioning for All-State. 
Now, fast-forward almost a year later, there remains the looming threat of the coronavirus, making it highly impractical to hold a large festival like NYSSMA. As it turns out, the 2021 festival is going to happen. It's just going to look a bit different this year. The New York State School Music Association, for which the festival is named, has announced that the festival will be held virtually. Students will have to record videos of themselves playing their pieces and then submit them for adjudication. This is definitely a step up from last year's cancellation, but it's obviously not an entirely perfect arrangement.
Sasha Bilik ('22), who has been participating in NYSSMA since fourth grade, is auditioning for the All-State ensemble in this year's virtual festival on violin. She sees both advantages and disadvantages in the format of the festival, commenting that "If you mess up, you can try again! [But] it's going to be more challenging because [everyone] can do multiple takes of their piece, so it will most likely be more competitive." In other words, a virtual festival is advantageous for individuals, but with every individual being afforded that advantage, it sets playing to a much higher standard, making an already competitive audition that much more competitive.
Melanie Huang ('23) will also be auditioning for All-State but on both flute and piccolo. She agrees with Bilik that the multiple takes are an advantage, but says, "On the other hand, [she's] going to be putting an extreme amount of time into my recording process this year that I usually wouldn't have to." In regard to the accompanist that she is required to play both pieces with (at a safe distance), she jokes that to make matters worse she, "now [has] to drag another person down with [her]!"
Not all participants in the festival will have to worry about dragging anyone down with them, though, because according to chorus teacher Mrs. Gundling, "Many students will be bound to a pre-recorded accompaniment." Gundling is rather disappointed about this, mentioning that, "Part of what [they] prepare [their] students for is the collaboration between soloist and pianist." She also believes that for those who will have to deal with the lack of live accompaniment in this format, it will be "tougher to fully express the piece." Overall, Gundling is grateful for NYSSMA's pivot to a remote platform, especially after last year's cancellation. "​Actually having a festival to work towards and knowing it will occur regardless of the state of the world is exciting," she says. "It gives [her] musicians a performance goal to work towards." 
Over the next two weeks before the festival, these musicians will pour hours into the goals that they're working towards. Though it may be up for debate whether a virtual NYSSMA festival is more favorable to students than a regular in-person festival, one thing is certain: MHS has a sizable population of dedicated music students who are going to give their auditions their all regardless of the format.