Local Fitness Center Powers Through Pandemic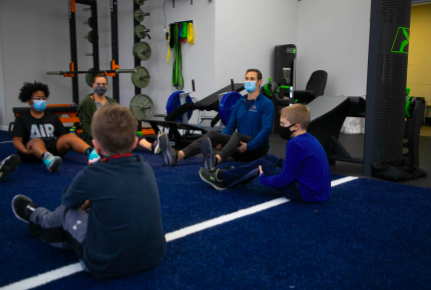 Our whole community has been devastated because of the COVID-19 pandemic. Many local businesses have had financial and mental struggles which have caused the community to slightly collapse. However, we need to remember what Robert Tew once said, "The struggle you're in today is developing the strength you need for tomorrow." REP Athletics is emulating this glorious idea and proving it true. They are having their hard times like the rest of the world. But they are using this time to learn, grow and develop into a flourishing local business.
REP Athletics is a local fitness center located along the Boston Post Road, in the Village of Larchmont where customers can participate in a one-on-one session, or be in a small group led by one of their highly qualified trainers. These trainers have gone through vigorous training themselves and have been educated through past experience, schooling, and what Geoff Rose has taught them. The young business has had its fair share of struggles due to the pandemic, but has worked hard to supply an outlet for many of our community members.
Once the pandemic first hit the United States, REP Athletics suffered some big financial losses. It is challenging running a personal training session while trying to maintain a six-foot distance, but not impossible. REP Athletics reopened in early June when the whole of Westchester started opening up, but they had to take more precautions than most considering their business relies upon human interaction and physical exercise. Yet, these extra precautions didn't stop them.
REP Athletics has made several adjustments in order to meet New York State Guidelines and keep their customers safe. They kept their capacity below 33 percent to limit the spread of the virus. They have a state of the art air handling system that filters in new air every fifteen minutes, so previous customers that may have COVID-19 will have the air filtered out keeping them safe. Every client has to fill out a contract saying they have had no contact with someone who has had covid or hasn't experienced any symptoms. All of their equipment is thoroughly cleaned between appointments and hand sanitizer is a necessity. Not only is their indoor facility extremely safe, but they have also worked together with the Village of Larchmont to free up outside space and were able to hold outside sessions through parts of January. They will be hoping to hold these same classes come springtime.
If you don't feel comfortable working outside or in a public environment, you can always check out their website, https://repathleticsco.com/. They offer many training plans that can be completed at any place with wifi, instead of just at their studio. REP Athletics owner and personal trainer Geoff Rose recommends REP Athletics over the big brand gym., saying that, "their gym is safer and better for the current environment." Rose emphasizes how they, "give more time and put in more effort into [their]clients. [They]have clients set goals and push them to their limits so [they]can see them succeed." 
REP Athletics has faced many challenges through this global pandemic but, through their adaptation and perseverance, has given the community an escape. They have shown that even in the hardest times businesses can succeed and provided an outlet and a place for many students, parents, and other members of the community to challenge themselves and have a splendid time.