Committed Senior Athlete Profiles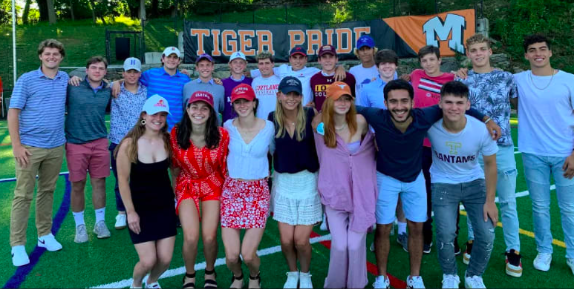 Sebastian & Andre Cutler
Next season, the University of Wisconsin-Madison's and Marist College's men's soccer teams will include Sebastian and Andre Cutler, respectively. They both have been playing soccer since the age of six. In their high school years, the Cutlers played together year-round for Metropolitan "MetOval" Academy, an elite soccer club based in Queens, NY. Playing for this team allowed them to "travel and train at a professional Portuguese Club – Estoril Praia – [with the] U23 team [this past winter]" explains Andre. For the last three seasons, both athletes were voted co-captains of their team. Sebastian will miss the "hardworking and positive environment that surrounded MetOval" but is looking forward to "play[ing] at a very high level and experienc[ing] this next step" in his life. Andre is excited to be a part of Marist's program "which has goals to win right away" although he will miss "being a part of the MetOval family" and the "great view of the city that can be seen from [MetOval's] training ground." This fall, the brothers both plan to major in business as they work to give their best to their new teams. 
Jesse Beers
Jesse Beers has been wrestling for a little over ten years and in that time has become a facet of the Mamaroneck team. He is a two-time All Section wrestler and has placed fourth in Greco Roman wrestling. During his time at Mamaroneck, the team placed second in their Tiger Tournament and made it the furthest they had ever gone in the sectional duals. Beers describes how wrestling has "taught [him] many skills [such as] time management, body control and how to work hard." In addition to wrestling, Beers also runs track, throwing the javelin and doing long jump, and also does gymnastics. In the fall, he is looking forward to continuing both wrestling as well as track at Worcester Polytechnic Institute where he plans to study biomedical engineering.
Elizabeth "Lizzie" Coyne
Elizabeth "Lizzie" Coyne will be continuing her rowing career at Columbia University this fall. She began rowing the summer going into eighth grade with RowAmerica Rye and started competing her freshman year. "To this day, my best friends are on this team, and I've learned so much from them," explains Coyne. "[They have taught me] how to push myself past my limits and how hard work pays off." Coyne's greatest accomplishment of her high school rowing experience was winning the Women's Youth 4+ event in the 55th Head Of The Charles Regatta in 2019. Her favorite and usual seat in the boat is the stroke seat because she gets to "set the tone for the race and lead [her] teammates through the finish line." Although she will miss the supportive and tight-knit community of RowAmerica Rye, she is excited to "experience a new style of coaching" at Columbia University and continue to improve her rowing on a physical and mental level. She is currently undecided on her major but is leaning towards a STEM focus. 
Joseph Kasper
Joseph Kasper has had a love of baseball for over a decade. He began playing the sport when he was around five or six and proceeded to play travel ball, far more competitive than his previous recreational league, when he was eight or nine. At MHS, he has been an integral part of the varsity team for three years, participating in the team's win at league championships and their second place win on their trip to Charleston, South Carolina. Kasper describes his time playing for Mamaroneck as purely "awesome." He says that he "couldn't have asked to be around better guys, not only on the field, but outside of school as well." Upon graduating, Kasper is not looking forward to "having to say goodbye to the same guys [he's] played with [his] whole life," but is also excited to meet new teammates and coaches, and to "learn things at the next level." Kasper plans to play Division I baseball at Iona College next year and is currently undecided in his major. 
Samantha Maresca
Samantha Maresca is a well rounded athlete with a passion for health and exercise science. As a field hockey, lacrosse, and ice hockey player, Maresca believes that "each team is a family" and that the "dedication and heart" of MHS's athlete community made her experience with sports at MHS incredible. She has been an All-League and All-Section field hockey player since her freshman year, an All-State player since sophomore year, and All-Region player for the last two years. For both her junior and senior year, Maresca was a captain of MHS's field hockey team, and enjoyed the responsibilities of having a leadership role and being a goalie. During her senior year, Maresca was selected to play as part of the NFHCA inaugural High School Impact Senior Team and named Westchester/ Putnam County's Field Hockey Player of the Year, which she describes as "an honor which my teammates and coaches had a huge part in." Maresca will be playing Division I field hockey at Sacred Heart University and looks forward to the new "level of play and competitiveness" that awaits her, but says that leaving the Mamaroneck field is sad and bittersweet.  
Riley Moore 
Riley Moore began playing lacrosse in second grade and has pursued her passion for the sport at every level. She played in the youth recreational league, served as the captain of MHS's junior varsity lacrosse team, and is now the captain of the varsity team. Moore also played field hockey for the first three years of high school. While Moore was part of the lacrosse team, the team made it all the way to the section 1 Class A finals in both 2019 and 2020. Moore says that sports were an essential part of her high school experience and explains that she was able to "grow so much not only as a player but as a person." The community that she found through MHS sports was also remarkable, as Moore will treasure the "friendships that will last a lifetime" even after she graduates. She looks forward to playing Division I lacrosse at Davidson College and is excited to "play with girls from around the country" and compete at a "higher level and faster pace."
Some of the Additional MHS College Recruits…
Division I:
Ellie Bruce – Rowing – Georgetown University
Christopher Divito – Baseball – University of Richmond
Casey Gomes – Rowing – University of Texas at Austin
Grant Malas – Men's Lacrosse – Bucknell University
Division II:
Joey Dos Santos – Soccer – Mercy College
Division III:
Bijan Anvar – Baseball – Franklin & Marshall College
Jack Fried – Lacrosse – Hamilton College
Charles Kaldor – Soccer – Trinity College
Zachary Kringdon – Baseball – SUNY Cortland
Gent Malushaga – Cross Country/Track – Amherst College
Ryan McIntyre – Baseball – Amherst College
Max Nodiff – Lacrosse – Hamilton College
Alexander Verni – Football – Washington & Lee University
Benjamin Wechsler – Baseball – Washington & Lee University
Amanda Zerbib – Field Hockey – Bates University
Lucas Tucker – Swimming – Alfred University