Big Music Festivals Return to New York
Everyone is excited to bring back live music, but is it safe? What COVID-19 protocols are festivals putting in place?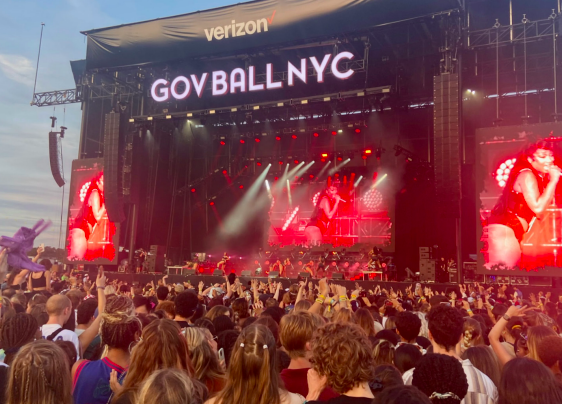 Since COVID-19 has been in its decline, artists are getting back on stage to perform in front of live audiences again. The first official return of in-person concerts began back in June 2021, when The Foo Fighters performed for 15,000 people at Madison Square Garden. The venue had not seen a crowd this large in over 460 days and the start of the pandemic.  
While throughout the pandemic there had been a push for virtual music performances, everyone can agree that the thrill of a concert cannot be replicated through a screen in your living room. Big-name artists such as Dua Lipa, Billie Ellish, BTS, Lil Nas X, and Justin Bieber took part and held online shows. Tickets for these events could be bought on the internet, and then you would watch a live stream through platforms such as MelodyVR, YouTube, Facebook Live, and Song Kick from home. While companies have invested in advancing the technology used in virtual concerts such as exclusive rooms and 360 views of the venue, it has not been enough to convince Mamaroneck High School students to attend. 
Lea Barry-Thouez ('23) felt virtual performances had no real future. "You can't beat a real concert – the experience of being with your friends and having an artist sing songs right in front of you. Zoom concerts don't retain that feeling." Todd Freifeld ('22) similarly stated, "They have no future because people pay for the experience of actually being at the concert and you can find live versions of songs on any streaming platform."  
Neither Barry-Thouez nor Freifeld were surprised by how quickly live concerts made a return and acknowledged it was only a matter of time until the COVID-19 cases decreased. Freifeld bought tickets to see his favorite artists as soon as they announced their tours and he plans to attend The Rolling Loud Music Festival at Citi Field in late October. He felt that the past year and a half without concerts has been very tough and believes that since he is young, healthy, and vaccinated, he is ready to get back to live shows. Freifeld, like many others, feels much safer attending large in-person events since the requirements of a negative COVID-19 test or proof of vaccination have been instated. "I think the requirement of being vaccinated or having a negative COVID-19 test is necessary in order not to make it a super spreader event…with these precautions, it is safe to come back to large-scale concerts," he said.   
Barry-Thouez is also completely ready to go back to live performances, explaining, "I am super excited for the feeling of joy being so close to an artist singing amazing songs in the moment, not through a phone." She has tickets to go to a Quinn XCII performance at Radio City Music Hall, Governors Ball at Citi Field, and a Lumineers Concert all between Fall 2021 and early 2022. Barry-Thouez believes that experiencing a concert is especially important for students our age, as it forms unique, once-in-a-lifetime memories. Nonetheless, she also realizes there are precautions we all must take, such as "wearing a mask properly and refraining from sharing personal space and objects." 
Governors Ball on September 24-26 this year, had 150,000 people in attendance and over 60 artists performed. Rolling Loud had over 150 artists. Rolling Loud Miami, which took place in July 2021, had over 75,000 people in attendance and had similar restrictions in place, such as proof of vaccination or a negative COVID-19 test. These events were both Freifeld and Barry-Thouez's first large-scale festivals. Both feel confident that while following COVID-19 requirements, they were able to keep themselves and their families safe while doing what they love most: singing at the top of their lungs!