MHS Football Team Launches a Semi-Normal Season
The Tigers get back to the field and their teammates in a traditional fall season.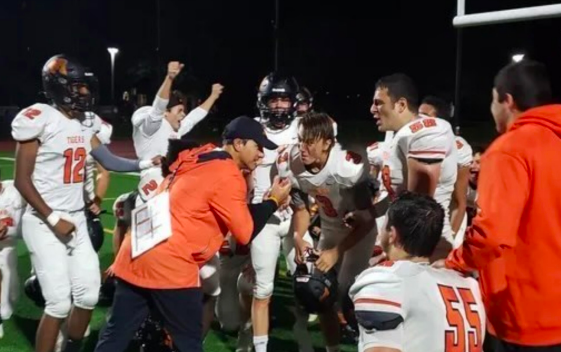 Since the start of modern cinema, it seems that behind every classic American high school, there is a victorious football team. From Friday Night Lights to Varsity Blues, athletes are always portrayed taking to the field with the well wishes of fellow classmates and a chance to win. Helmets and shoulder pads intact, students fight head to head amongst cheering supporters, and the ancient tradition that is high school football lives on. 
Here at Mamaroneck High School, we have continued this tradition along with many others. However, with COVID-19 and its complications, the football team joins the rest of Mamaroneck's community in the many off-field losses it has suffered. In the aftermath of Hurricane Ida, players volunteered their time to help with flooding relief. After a spring season last year (in place of a fall season), there is no question that this may be one of the strangest times for the Tigers, especially with all that goes on to prepare for games behind the curtains. 
When shouting from bleachers while a game unfolds, it is difficult for fans to imagine how much effort is given by the team the day before. Game day, in fact, begins three hours before a game, during which athletes arrive early to speak with trainers and get taped. The team gathers to discuss mistakes that could arise in the evening and how to prevent them. For an entire 90 minutes, players warm-up, later then walk down the stairs to the field as the Force plays. 
Additionally, members of the football team participated in an intense pre-season, with practices ranging from two and a half to three hours every day of the week except for Sunday. Thirty minute meetings take place before practice actually commences and a packed agenda unfolds. Players first stretch and then go through drills based on their team position. Both offense and defense practice before the day ends with a team scrimmage. 
Although the work is grueling, players are happy to have a regular season again. As no summer pre-season took place last year, the experience was cut short to a total of only five games. Spectators could not see the team in a large crowd and fan numbers were reduced significantly. Thus, the team is looking forward to a full eight games this autumn. From Port Chester to Scarsdale, it's sure to be a season packed with rivalry and excitement. 
When asked about what he is looking forward to this year, football team captain Matt Sommers ('22) simply replied, "Overall, I'm just grateful that I get to play the game I love, and that I have a team to play it with." At MHS, athletes agree with this statement across the board. After such a great kick-off to the season with a 48-0 win over Yonkers, the Tigers are moving into the fall season with confidence and hope. With a 5-1 record so far, MHS can't wait to see what they pull off next.