Students Share Skills in Collaborative Design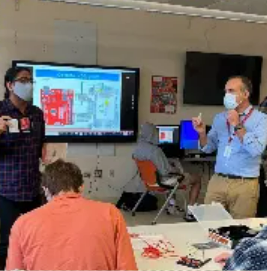 It is quite common to hear about students losing interest in a class because they cannot see how it pertains to their world outside of the classroom. This complaint raises the difficult question of how teachers can make their classes more applicable to students' lives. Determined to provide a solution to this problem for their students, design teacher Gwynne Bettencourt, computer science teacher Dr. Jigar Jadav, and engineering teacher James Love collaborated on the creation of a class that would allow students to work together to address various challenges through an interdisciplinary program known as CDL (Collaborative Design Lab).
CDL has been offered to students in electives such as Design, Computer Science, and Engineering since 2018, while Architecture has only been offered since the beginning of this year. To take CDL, students are required to have at least two years of experience within their elective. However, the majority of students in engineering and computer science take their elective for the entire 3 years before taking CDL. This measure is taken to ensure that students can effectively contribute to the success of their team. Students from these various electives work together in groups on various projects that will benefit the community while providing students with the valuable experience of real-world application. "Project work is constructed to bridge multiple disciplines, creating connections between Science, Technology, Engineering, Mathematics, and Design topics," explains Bettencourt. "Through these connections, designers will create new materials of value responsive to the needs and wants of a society in flux and contribute objects and campaigns of worth that integrate the best in design and design thinking."
Students' shared knowledge in various disciplines opens up a wide variety of possible projects for students to choose from. Ongoing CDL projects range from improving the MHS parking experience to discovering ways in which autonomous aerospace technology can be used for lifesaving measures. CDL provides students with the opportunity to bridge the gap between their knowledge inside the classroom and their outside interests; they are offered the chance to work in an environment that simulates a real collaborative design setting. Bettencourt describes how through this experience, students will further develop their professional skills in the design field by learning "human-centered design, environmental, product/industrial, web, package design, and global branding strategies."
Anna Robarts ('22), a current CDL student, cites Collaborative Design as "one of the most unique experiences I've come across throughout my high school years." Robarts speaks very highly of the class, describing how the CDL aligned with her interests and brought the best student out of her. "All of the critical thinking processes we practiced in design classes and the lessons on how to navigate all of the design software, allowed me to put my best foot forward when working in our groups for Collaborative Design," notes Robarts. While she praises CDL for its real-life focus, she also acknowledges the challenges that students face when working with peers in varying disciplines. "Being around multiple disciplines can be challenging at times [because] all of the students envision projects a little differently," explains Robarts. "But, getting to see how my peers brainstormed together to bring sculptures, concepts, and HCD (Human-Centered Design) prototypes to life is incredibly inspiring."
Cailin Kuhn ('23), a fellow CDL student, commends CDL with the same praise as Robarts, describing the class as an "eye-opening" experience. "You get to experience working with people who have different educational backgrounds, which prepares you for working in the creative industry, where collaborating is a crucial part of work," states Kuhn.
The future for CDL looks bright, as an all-new, innovative CoLab space has been designed and will be starting construction in Spring 2022. The CoLab will be located on the Post side of MHS and will seek to provide CDL students and faculty with a specifically curated room for the class to develop more innovative connections with the curriculum. As CDL students continue to apply their knowledge to various projects in support of our local community and beyond, MHS is sure to benefit greatly from the generous efforts of both CDL students and faculty.