The Mamaroneck Bowling Team Triumphs
The unique team acts as a shining light amongst the winter darkness this season.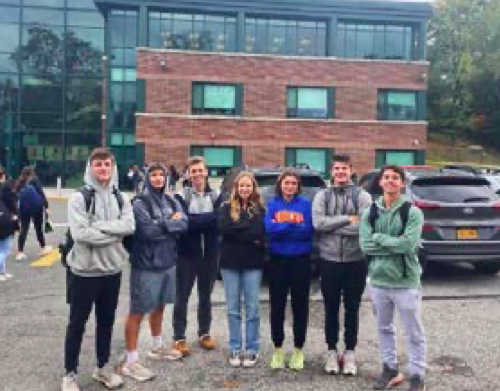 With record cold temperatures and icy roads, many are reaching a period of inactivity this January. Walking home against the wind seems a lot less appealing than sitting within a heated car. A cozy couch appears like the perfect place to spend a school-day afternoon. Nonetheless, while weather builds a trend towards inactivity, the Mamaroneck Varsity Bowling Team has been putting in their practice hours, knocking down pins, and winning every time they have played. The undefeated crew of bowlers is one of the most successful tiger teams this season– a shining light amongst winter darkness. 
Led by Coach William Byron, the twelve athletes have played a total of nine matches with three games in each. Not only have all matches been a Mamaroneck victory but an impressive 26/27 (9 matches x 3 games = 27 games) game-score has established our team as prominent champions within their bowling division. These competitions take place at the Bowlerland Alley in the Bronx on Mondays and Wednesdays while Tuesdays are reserved for practice. As they take on White Plains, New Rochelle, Harrison, Yonkers, Portchester, and Scarsdale, they are emerging as easy candidates for participation in the 2022 post-season.
Still, despite the dominance they carry within their league, the post-season means a lot to them. With nine seniors on the team, this is the last chance to achieve a collective dream of going to sectionals, postponed for the past two years due to pandemic-related complications. When asked about this goal, Jake Bransfield ('22) replied with determination: "We have a huge match coming up against Scarsdale and if we can beat them we are heading to sectionals! They are our rivals and beating them to go to sectionals would mean so much. None of us have bowled before sophomore year and an opportunity at sectionals would show that all the hard work paid off." The ability to fight for a title means so much to this group which has been bowling through tough times for several seasons.
Meanwhile, the competitive nature of the bowling team pleasantly pairs with a low-pressure environment at the alley. Though small in comparison to other tiger sports groups, the athletes have a very close connection emphasized by Alex Duffy ('23): "Joining in freshman year, the bowling team was immediately a welcoming and fun community. While you learn a sport which can be useful for the rest of your life, you also make great connections with the other members of the team." According to Pin Chasers, bowling is a great way to improve strength, flexibility, and relieve stress, very important things to do during a frigid second quarter. Clearly, the MHS team has been reaping these benefits.
And although strength and flexibility are important, most looking back are proudest of their new skills in the sport itself. When asked about his experience on the team over the years, James Tiebout ('22) reflected on how he and friends developed their bowling abilities: "Over the past three years that I have been on the varsity bowling team, we have made huge strides in becoming better bowlers and an overall better team. My experience on the bowling team consists of spending a lot of time having fun bowling with my friends, while at the same time competing to win our section and hopefully states. This year, we have the talent and depth to make a really good run during states." His response reflects the sentiments of his team as they count down the matches until sectionals.   
In conclusion, with so many seniors on the team, Charlie Szuchman ('22) spoke up about the legacy he wishes to leave for future bowlers: "We are very excited for the opportunity to compete and try to go to sectionals! We would love to leave a legacy of how much growth and improvement we have shown over our time on the team, and hopefully a league and section title!" The Mamaroneck bowling team is an optimistic group of fellow students, an inspiration to us all as they accumulate their victories and move ahead through the winter season.