Valedictorian Brewer and Salutatorian Hecht Leave Their Mark on MHS
The excellence that these two students portrayed throughout their time at MHS does not go unnoticed.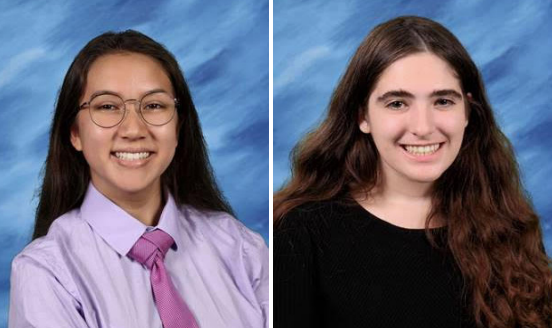 With twenty students with a GPA of 98 and above, the class of 2022 is an outstanding group of scholars. And leading this exceptional group of students, in academics as well as an extensive list of extracurriculars are valedictorian and salutatorian, Lain Brewer and Allison Hecht.
Lain Brewer excels at whatever challenges she is met with, whether she is placed in front of a white board, a computer, or a blank canvas, she always manages to shine. Brewer not only brings her stark thinking to the classroom, but to the Computer Science Club, where she has been able to make massive strides. Through the club, Brewer was able to compete in the American Computer Science League (ACSL) in eleventh grade , the only junior on the senior team. Along with being part of such an exclusive team, Brewer was named co-president of the club her senior year, and has since held extra help sessions during lunch to aid computer science students with their homework and projects for the course, as well as helping them review their tests. In addition to her ample work with the Computer Science Club, Brewer has been an active member of the Gender Sexuality Alliance (GSA), stage crew for school plays and musicals, and the Dungeons and Dragons club, and Caprice Advisory,  while also participating in art shows and competitions in her spare time.  
Dr. Jadav, Brewer's computer science teacher, describes her as a "creative, hardworking and intelligent young woman who is consistent, reliable, and friendly." Looking at Lain's rigorous course load, Dr. Jadav is spot on. Brewer took a wide array of Advanced Placement (AP) courses during both her junior and senior years, which included AP Computer Science, AP Physics 1, AP Studio Art, AP BC Calculus, AP Physics C, and AP Macroeconomics. Along with taking a substantial amount of APs, Brewer took a number of honors classes during her time at MHS. 
Out of all her courses, Brewer says that her art classes were definitely her favorites, explaining that "they are inherently different from all my other courses and often provide a break during the day. The subject challenges a different part of my brain, being creative instead of factual." Brewer also remarks that the art teachers have always been really nice and have aided in helping make the art classroom a calming and tranquil environment, making her art classes a significant highpoint of her high school career.
Brewer highlights that one of her most prized achievements is her success in winning the Young Artists on the Rise 2022, run by the Mamaroneck Artists Guild. Kevin Klein, Lain's art teacher throughout her four years at MHS, expresses that "working with Lain in the classroom is a rich and satisfying experience. Her level of engagement, intellect and exceptional talent in drawing allow me to have exchanges with her as an equal." Brewer explains that she hasn't had the most confidence in her art, so being able to win such a notable award has made it an accomplishment that she is most proud of. 
Next year, Brewer will be attending Barnard College where she plans on majoring in computer science. After her time at MHS, Brewer encourages students to keep things a little silly. "Have hot chocolate in the middle of summer or wear something formal for the most informal day. Whatever it is, it makes life a bit more interesting and a lot more fun."
This year's salutatorian, Allison Hecht, has been both a remarkable student and an exceptional member of the MHS musical community throughout her high school years.  Hecht's determination and persistence have allowed her to not only leave her mark in the classroom, but also onstage. Hecht's orchestra teacher, Elysse Gellert-Mullen, comments that "Allison…has always been an extremely talented, hard-working cellist and music student in our orchestra program. As a section leader she is quiet but very strong and is always friendly, kind and caring to everyone who plays with her."
In her years at MHS, Hecht was able to maintain and progress her strong cello skills while also taking a rigorous load of AP classes including AP Language and Composition, AP US History , AP Physics 1, AP Literature and Composition, AP European History, AP Biology, and AP Calculus BC. 
 Along with taking various AP classes, Hecht took Chinese all throughout high school, which she recalls as being one of her most memorable subjects. Hecht's Chinese teacher, known as Liu lǎo shī (刘老师) to students, describes Hecht as being a true scholar, going on to express that "Allison has the passion and determination to embrace the Chinese culture and language. She's the one who serves as the role model for other students and engages as well as encourages discussion within the classroom." 
Outside of the classroom, Hecht has been an active member of the Larchmont-Mamaroneck musical community. She has been actively involved in String Buddies, a program at MHS where orchestra students go to elementary schools in the district and teach free music lessons to younger string players. Along with her involvement in String Buddies, Hecht has also played cello in a local community orchestra and taught private cello lessons independently. Hecht has not only brought her skills to the musical and academic sectors of MHS, but she has also been a major contributor to the Original Civic Research and Action program (OCRA), designed to create reforms addressing local issues. . 
Hecht emphasizes that the work she has done in OCRA has been one of her most valued accomplishments. Together with a group of four peers, Hecht has focused on addressing the lack of legal representation for Westchester tenants who are involved in eviction cases, advocating for right to counsel (RTC) legislation in the county.. She explains that "we did a lot to advocate for this legislation, including helping to persuade four local municipalities to pass resolutions in support of countrywide RTC legislation." Hecht shares that, more recently, current county executive Geroge Latimer has proposed legislation that would create an Office of Housing of Counsel, which would provide tenants with free legal representation.
This fall, Hecht will be attending Cornell University where she will be majoring in Policy Analysis and Management, an interdisciplinary major that is a combination of public policy, political science, economics, and statistics. Hecht urges MHS students to "do your best and try not to procrastinate," reminds them that "you're capable of more than you think," and advises students to "try to get a decent amount of sleep!"