Exploring the Role of MHS Music Program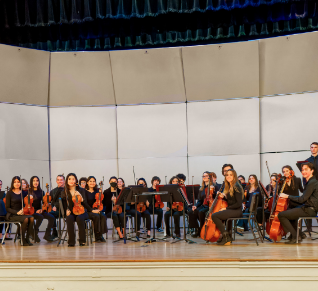 Everyone listens to music, yet every person has their own unique tastes in genre and artists, rhythm, and tune. Human beings are constantly committing to memory the songs that are playing during crucial moments in their lives. Whether it be a popular tune that is playing in the car during a moment of pure bliss or tapping at a grandfather's funeral, we are laying down a soundtrack in the back of our minds. It is no secret that music evokes emotion. It's part of the appeal. And yet, despite all of the daily connections that every person makes to music and the immense role it plays in our lives, only a minority of the student body at MHS participates in the music program. 
In the Mamaroneck Union Free School District (MUFSD), students are required to take a music elective through eighth grade. However, once beginning high school, many drop their music elective in favor of choosing one of the many new electives that the high school has to offer. Dina Madden, the Music Coordinator for all of MUFSD, has been working in the district for thirty-three years and at Mamaroneck High School (MHS) for twenty-two. She acknowledges that many students drop a music elective going into MHS because they've already taken music and want to try something new. Many begin to feel the social pressure of "building that resume" in addition to experiencing the desire to "build all of these experiences." Students' piling of activities and classes often leaves dedication to music in the dust. Senior Ava Becker ('23) was a trombone player for several years before stopping. She found that as she got older she was having difficulty dedicating time to her instrument due to increased course loads and sports. Her experience is not an uncommon one amongst students who dropped a music elective when high school began.
  However, those who participate in the music program, both staff and students, are in fervent support of it. Plenty of studies have proven that playing music makes your brain work harder as both physical and mental connections must be made simultaneously. Madden describes how complex playing music, especially in an ensemble, truly is. "[So] much has to happen cognitively, physically, and then that connection has to be made," she explains. The connection among musicians in an ensemble is crucial. Madden compares it to being on a sports team, "it's not just everyone playing on their own. It's working together towards something." The necessity to work together to play cohesively notably translates to the type of community the music program fosters. Junior Finnegan Atkins ('24), is a current saxophonist in MHS' band and jazz band. He says that what he "love[s] most about the music program is how close everyone is." "I know every person by name," he continues. The ability of the music program to bring together students "from all different groups of the school" due to a common interest is a benefit that all in the program reap. Band director Tim Hooker has been working at MHS for twenty-six years. Over the decades he has witnessed firsthand the effects of the music program community on his students. He can attest to how the environment promotes long-lasting friendships. "I've had students that were in the program that have long left ten years, twenty years ago, and they all say that they're in touch," he says. Therein lies the music program's superpower: its cultivation of bonds between musicians over a common interest. "The sense of building friendships and community and having a place that feels safe is tremendous," Hooker continues.  
Playing music is often seen as a form of expressing creativity. Junior Sam Gatti ('24) is a current Advanced Drawing and Painting and Pace 3 student. She describes music electives as "a different creative outlet for some people if they don't feel connected to other aspects of 'the arts.'" Said creativity is a crucial part of the music program. Hooker says that being a part of the music program "keeps that creative mind going," especially as "new kids come in with different ideas" every year. The musical landscape at MHS is constantly evolving, encouraging the cultivation of creativity that might otherwise be stunted. Gatti and Madden both bring attention to the fact that there are other ways to be involved in music at MHS outside of the music program. PACE has elements of learning music in it and the Original Science Research elective allows for the conducting of research regarding music. 
The general consensus seems to be that students should be encouraged to participate in music electives at MHS. Atkins attests to the perseverance required to achieve the desired, and difficult, end result. "It's not easy to play an instrument, and maybe people may be uncomfortable with it," he says. However, he encourages students to push through as "seeing your hard work pay off when your ensemble plays a piece is so rewarding." There's something to be said about sticking it out. Gatti urges those who feel a strong affinity for music to pursue their dreams. "If you love it, stick with it, and if you don't, find something that you do love," she encourages. Becker maintains an active role in supporting the music electives at MHS even though she chose not to enroll in them. "I love attending all of PACE's or the school's musicals as well as going to the orchestra or band concerts," she says. Should MHS students participate in the music program? The answer is purely subjective and varies depending on the individual. However, all MHS students can support the music program. Whether they participate in the program or are concert attendees, everyone at MHS can benefit. No matter one's personal opinion, the fact remains that we all connect to music daily. And that causes enough for Madden's number one piece of advice for conflicted incoming students to be to "just try it."