Local Business Q&A: The Golden Shoestring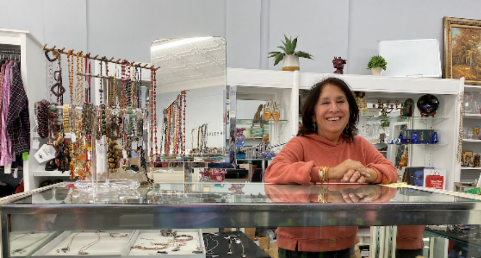 As we enter the holiday season, the pressure to buy new and trendy clothes can be overwhelming. But despite the appeal of winter sales, this buying cycle negatively impacts the environment and wastes valuable resources. An incredible amount of energy goes into producing and shipping these new clothes: more than 400 gallons of water are used to produce cotton for one T-Shirt. About 1,800 gallons of water are needed just to grow enough cotton for one pair of blue jeans. Toxic chemicals are used to treat the textile materials used in clothing and factories and dump this waste into waterways, polluting the environment. In addition to this, most clothing is made out of synthetic materials that don't easily degrade, further harming wildlife. 
In recent years, thrift shopping has become a popular way of buying sustainable clothes and saving resources. It's also a great way to help local communities. The Golden Shoestring in Larchmont is one of these second-hand stores, owned and operated by the Junior League of Westchester for around 60 years. The manager of Golden Shoestring, Debra Quintana, was interviewed regarding sustainable fashion and thrifting.
What are the benefits of thrifting? Why should we do more thrift shopping?
One of the main benefits of thrifting is the price. With this year's economic uncertainty, people are looking for high-quality goods at an affordable price, and we offer that here.  The Golden Shoestring provides quality second-hand clothing, accessories, and home decor at great prices. A couple of weeks ago, a customer came in searching for a shawl to wear to a party that evening. We ended up finding her a completely new outfit including a beautiful cocktail dress, shoes, and clutch to match.  She was thrilled. Another reason thrifting is important is that it is sustainable and environmentally friendly. The items we sell here, some of them never worn, would have ended up in a landfill. It gives new life to clothing. There's also the added bonus that shopping here gives back to the community. The Golden Shoestring is a non-profit, so proceeds here help fund several community projects, scholarships, and grants.  When you spend money here, you help others. It's a win-win situation. 
Where do you get your items from?
We rely on donations from people in the community. We accept women's and men's clothing, accessories, shoes, jewelry, and small home decor. The shop is fortunate to receive many designer items, gold, jewelry, and furs. Some people change their wardrobes regularly, and sometimes the items we receive have never been worn; they still have their sales tags on them. We pride ourselves in selling only top-quality, near-perfect items. What is not up to par is recycled.
What are your plans for the future of the Golden Shoestring?
We would like The Golden Shoestring to become a community hub, and create partnerships with more organizations. Our future plan is to expand and widen our customer base with a new website and continue to grow our social media presence. 
With the help of One Larchmont, an organization to help improve the business district, the shop underwent a major transformation with a new modern window display, exterior renovation, and new logo and signage and logo this past summer.
Do you think thrifting is here to stay?
Thrifting is on trend right now. There are so many great things you can get upcycled. People are looking for thrift stores and are proud of what they've bought. When I was a kid, thrifting was for poor people, and now it's cool. I hope that thrifting is here to stay, for the sake of sustainability and the future of our planet.