Light Up Larchmont
Larchmont has an annual transformative change during the holiday season, but how does it come together?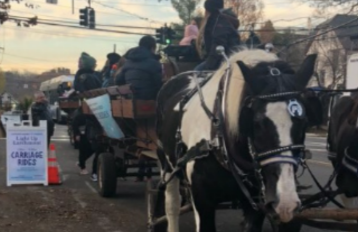 Larchmont transforms into a cheerful and vibrant town during the holidays, with most homes decked out in holiday garb and brightly lit displays. Larchmont celebrates the holidays in an incredible way- and one that has been an evolving tradition for over 25 years. 
Light Up Larchmont is a community-based festivity where many get together and celebrate the winter holidays. It is put on by the Larchmont Professional Firefighter Association and the Larchmont Police Benevolent Association. Lieutenant Richie Valentine from the Larchmont fire department oversees much of this event. He explains that Light Up Larchmont is "just one of those things that have morphed over the past 25 to 30 years. The Fire Department union used to do breakfast with Santa… Then, in about 2013, we switched to… photos with Santa." It became annual, and each year the event develops. Remarkably, Santa even came to the occasion once via helicopter– creating an amusing show for the participants of Light Up Larchmont. It is no surprise that between 1,000 and 1,500 people from Larchmont and surrounding communities attend the event. 
At the core of Light Up Larchmont is the tight-knit community that makes this holiday festival such a staple of the holiday season. This year, Light Up Larchmont was held on Saturday, December 3rd, from 3pm to 6pm in front of Larchmont Village Hall (120 Larchmont Avenue). Light Up Larchmont will be celebrated with refreshments, an ornament-making station, a letter to Santa station, and photo booths. Valentine also explains how he got involved with this event. "I have a theater background," says Valentine, "so part of what I did when I got hired here was I took on the Public Relations and Community Events Program through the Union." Although he isn't the only one involved — everybody from the police and fire departments participates. There are seventeen members on the fire department side and around twenty-six from the police department, representing roughly 45 members participating in Light Up Larchmont. Moreover, the spouses and kids of the police and fire department usually help out with this event. 
The Larchmont police and fire department start planning Light Up Larchmont in August of every year. They begin the processing by organizing and lining up vendors for the celebration. Then, everything ramps up on November 1st, about a month before the event, when the plans begin to fall into place. Valentine also describes details of the planning, saying, "the funding comes directly from the police and fire department union. We put our personal money together to run this event." The fire and police department gives to the Larchmont community in more ways than just keeping us safe; they create fun spaces for Larchmont and the surrounding towns. Overall, Light Up Larchmont is a wonderful winter event and a great way for people to kick off holiday festivities!