You don't want to be in line at a food establishment adjacent to Mamaroneck High School around 11:15 a.m.. With MHS's open campus, as third period finishes, students dash out of building doors as they compete to get food first, whether it is Starbucks, McDonald's, or Mamaroneck Deli. With just a 44 minute lunch time, within which students must allot time to get both to and from their classes surrounding the lunch period, it is a rush to acquire food in time from these popular stores. As of September 19, one more competitor will be joining this group of businesses: Chopt Creative Salad Co. Positioned directly across from Mamaroneck High School, all it will take is crossing Boston Post Road for students to have access to a wide variety of salads, wraps and bowls.
This new Chopt location provides a healthy eating option for students' lunch with a level of convenience that had not been present before, with the nearest takeaway salads being sold at Trader Joe's. While only about a five minute walk away from MHS, this 10 minutes of total traveling are costly minutes as students also consider factoring in finding a place to sit and eat, as well as waiting in line to purchase the salad.
A feature popularized by the Starbucks Mobile App, students will be able to mobile order in advance through the Chopt app in order to allow sufficient time to be served and then eat their menu item of choice. For a restaurant whose menu is almost entirely customizable, pre-ordering will be key to efficient service.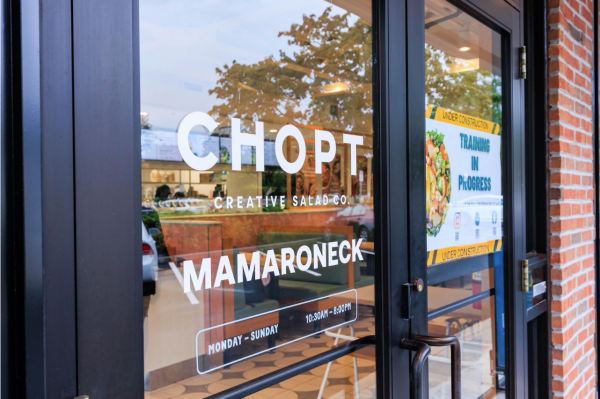 "No one wants to waste lunch hour standing on line waiting for food," Chopt's Chief Executive Officer, Nick Marsh, explains. "You can actually use the app to order your lunch in the morning and schedule your pickup for whenever you want," he added, meaning students won't have to be strategic about when they pre-order to pick up their food on their schedule. Assuming the vast majority of students will schedule early lunch pick up times, it remains unclear what volume Chopt's pre-order system will be able to accommodate.
While the convenience of Chopt is significant, the cost is something that students have to consider. Students will pay $14.86 for an average "Craft Your Own" salad, meaning most students will not be able to afford a trip to Chopt daily, in the way that they can afford a $3.50 slice of cheese pizza from Village Deli or a $3.75 iced coffee paired with a $2.25 cake pop from Starbucks.
 "I'm looking forward to a healthier lunch option," Maeve Lewis ('25) explains, but adds,  "I don't think it would be realistic or sustainable to get Chopt every day. Once a week or every other week seems more realistic" due to their more expensive pricing. 
On the other hand, Lily Montorio ('25) anticipates paying a visit to Chopt "a few days a week." She highlights that students need to consider "that there will be long lines and things will run out because it is so customizable," due to the high volume of orders Chopt will likely see in the first few weeks after its opening. Although this may not be an everyday option for the vast majority of students, on days when they have an important test or a sports game against their biggest rivals, a salad might be just what they need. According to the National Library of Medicine, healthy eating habits are correlated with increased academic performance. Furthermore, nitrates, found in vegetables, increase blood flow to working muscles, increasing athletic performance, meaning that greens-based salads are an ideal meal before an important sports game (NSW Institute for Sport). According to Marsh, "the food landscape has changed so much… one of the leaders in that change is younger kids." He anticipates that a significant percentage of revenue that Chop't Mamaroneck will be receiving will come from high school students.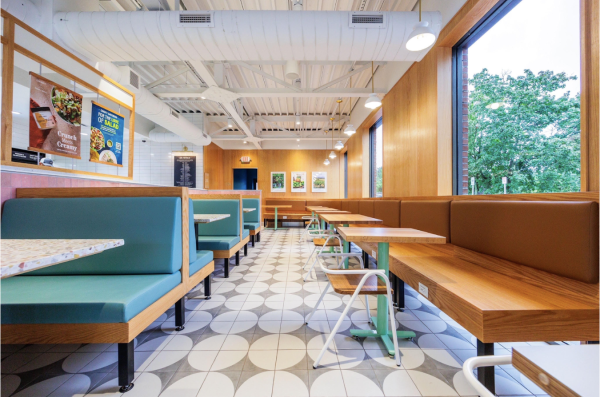 Opening a Chopt directly across from MHS has a special meaning for Marsh, who is a Mamaroneck High School class of '86 alumnus. "It's really, really cool," he says, for him to be opening a branch of the company he runs in his childhood hometown, across from the high school he graduated from. "I ask myself, 'Could a salad restaurant have worked in Mamaroneck 30 years ago?', and I don't know", the CEO answers, while pointing out that Chopt is a "next-generation restaurant." This seems to be ideal for students today, who Marsh believes are "totally educated about health and food quality."
Acknowledging Chopt's presence as a chain in Mamaroneck, Marsh explains what they will be doing to give back to the community. "We are having two Chopt Gives days, where we work with a local organization and we donate the proceeds of the day to a local organization," with the first one of these events occurring on Tuesday, September 19, in partnership with the Larchmont-Mamaroneck Hunger Task Force. This is Chopt Mamaroneck's first open day, and students will be able to order from the resturant as they would on any other day. 
Their official "grand" opening will be on Wednesday, September 20. For the first two weeks following their opening, Mamaroneck students will receive 15% off all Chopt purchases. "We're trying to be a part of the community," Marsh emphasizes.