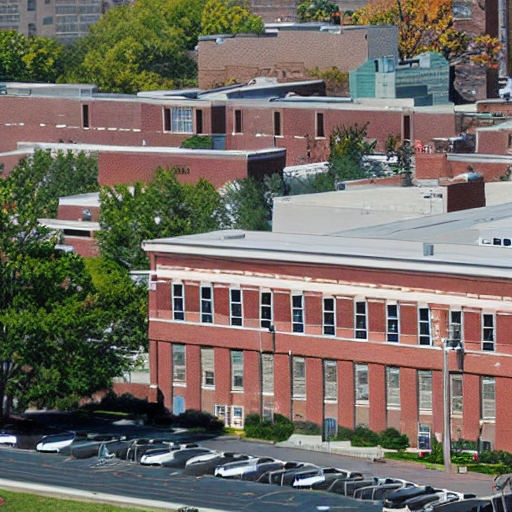 The photo to the right isn't Mamaroneck High School, but it sure looks similar. The image was generated by online AI generator deepai.org after being prompted with "create a photo of a high school in a suburb of New York City." AI has been around for a while and has been getting more powerful each day. Now, with AI chatbots like ChatGPT, there is a rising use of Artificial Intelligence (AI) in classrooms nationwide. Teachers are trying to find ways to stop students from using online resources, such as ChatGPT, to plagiarize their work. AI detectors, such as Turnitin.com, are one way teachers can check their student's work for plagiarism. 
The Globe spoke with two Mamaroneck High School (MHS) teachers, Erin Kennedy (Social Studies) and Sarah Silverman (English) on the different ways they combat AI in the classroom. 
Turnitin.com, the principal website for plagiarism detection at MHS before the rise of AI, has added features to detect AI generated writing since the launch of popular AI service ChatGPT, in 2022.  
"I've been using Turnitin since before the surge of AI as a detector for plagiarism in general," said Silverman, adding that "a lot of the time I don't need to use detectors to tell if a student has used AI for an assignment, because I try hard to get to know my students and their voices in writing well." 
Some teachers, however, believe that the use of them is important, including Kennedy, who noted that "I have used AI detectors for the same reason as I use the originality reports on [Google] Classroom and Turnitin: I think it's important for students to turn in work that genuinely shows their understanding of the material." According to Kennedy, "some of my [fellow teachers] in other schools have used AI as a teaching tool,  having had a site respond to a prompt and then allowing the student to grade the prompt based on the College Board (the organization behind the "Advanced Placement" (AP) national program) rubric." While she "has not done an activity like this," Kennedy said she was "open to it" as an AP US History teacher, one of the most popular 11th grade courses at MHS.
As the level of AI consistently advances, a common concern is whether it will eventually get so advanced that AI detectors won't work. Silverman sees the development of AI from a different lens. Less concerned with combatting AI, she appreciates how the presence of chatbots  "forces her to make work relevant for students so they are interested, engaged and want to do the work [rather than] feeling the need to use AI."  
At Mamaroneck High School, students caught plagiarizing with AI are subject to harsh punishments, including documentation on a student's record, being given a zero with the opportunity to authentically resubmit the assignment with a maximum grade of 60%, or, in the worst cases, an academic integrity panel of parents, teachers, and administrators.
 To Silverman, punishments like these may not be the most productive solution for the use of Chat GPT.
She remarked that thinkers in the education space should consider why students use AI, saying "it makes me think about how important it is to respond to students' needs," giving the example of "students who feel writing isn't something that is needed in their skillset." Maybe, Silverman says, they believe it's unnecessary "because they want to go into a career that doesn't require writing skills." 
 As a teacher who added a lesson on email skills, Silverman has a unique edge in making instruction resonate with students by providing skills they can see themselves using practically. She believes that "[writing skills] are important for a lot of reasons, but we should reconsider the structure of school to meet the needs of all students and we should encourage different career paths."
As teachers continue to wrestle with the presence of AI in an already hard fought battle for engagement in classrooms, educators could consider refocusing the story on artificial intelligence. Rather than jumping to short term solutions like plagiarism detectors, the education system should look to embrace the needs of modern students and understand why they turn to AI cheating, then, implement changes that will continue to promote positive learning environments, even as AI technology continues to grow at fast rates.