OneMamaroneck Rebrands and Revamps Itself to Fight Racism in the Mamaroneck Community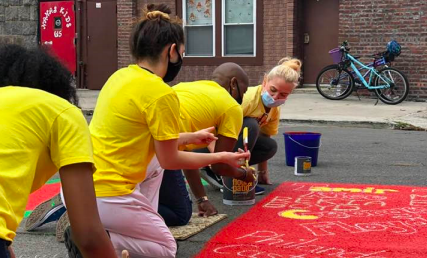 This summer, as streets were filled with protestors, headlines filled with names, and Instagram filled with black squares, White Americans' eyes were opened to the systematic racism that has plagued this country since its founding.  From the large city of Los Angeles, to the small rural town of Bethel, Ohio, to the suburban Larchmont-Mamaroneck area, society was shaken.The Town of Mamaroneck, in particular, saw an outpouring of anecdotes of racist experiences, Black Lives Matter protests, and information surrounding how the towns could be doing better for their diverse groups of constituents. A result of these nationwide and communitywide revelations was the revival of an organization that had already been working to combat racism in the Larchmont-Mamaroneck community: OneMamaroneck. 
One Mamaroneck is an organization founded with the mission to improve conditions for Black, Indigenous, and people of color (BIPOC) students in the Mamaroneck Union Free School District and in the broader Larchmont-Mamaroneck community. Founded in 2019 as a community organization by David and Lorraine Martin, the organization has recently achieved non-profit status and revitalized its core principles under new leadership from Shannon Purdy, Dianne Lovett, and Tiana Thomas. 
The organization was founded by the Martins in response to both of their children facing racist bullying at Hommocks Middle School and then receiving what they found to be an insufficient response from the school administration to the incident. Their first initiatives were a series of town hall meetings and community events, including a Juneteenth celebration and a MLK day of service, traditions which they have since repeated annually.
Recently, OneMamaroneck has used the recent nationwide racial awakening as an impetus to shift its focus towards a more activism-based approach. They were a core supporter of the Do Better Campout in early July 2020, which consisted of a week-long campout at Kemper Memorial Park demanding changes within the school district by providing campers with protection and supplies. In speaking about these new goals, Shannon Purdy, a member on the new Board of Directors, states how their "larger mission now also emcompasses anti-racism education, outreach. Really trying to stir the white community in Mamaroneck Larchmont and make them understand why it's important to live in a diverse community that truly represents America." 
MHS student Joe Robb O'Hagan ('24), the chair of the Social Media and Communications task force at OneMamaroneck, is hopeful that change will come to the district and community through his and others' work at One Mamaroneck. He wants "to see awareness community wide about the racism that exists and lives here, as well as motivation to do something about it." He also describes how OneMamaroneck aims to create a community of residents who are aware of the flaws that inherently afflict their neighbors and are committed to working to address issues of diversity, inclusion, and racism within their spheres. 
In regard to what the Mamaroneck High School community can do to get involved with OneMamaroneck, the organization is always looking for new people to become a part of their team. They encourage people to follow them on Instagram, @onemamaroneck, checkout their website, https://onemamaroneck.org, and reach out over email with questions to [email protected].