Valedictorian Dobkin and Salutatorian Spiridellis Excel in Graduating Class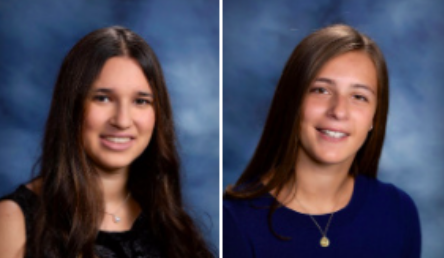 With 65 MHS Seniors graduating this year with a GPA of 95 or higher, the MHS Class of 2020 has proven to be an exceptionally impressive group of students. At the top of this incredible class stand Gaby Dobkin and Kaitlin Spiridellis, this year's Valedictorian and Salutatorian, respectively.
The Valedictorian, Gaby Dobkin, excelled in the pool, behind the computer, and of course, in the classroom. Dobkin's guidance counselor, Mr. Cuddy, describes her as "one of those rare students who is able to do it all without seeming to break a sweat." This is certainly true when it came to her course load, which included a total of nine AP classes spanning her Junior and Senior years. Dobkin took AP Physics 1, Physics C, Language and Composition, Literature, US History, Macroeconomics, BC Calculus, Biology, and Computer Science.
Out of all her classes, she found AP Physics C to prove the most challenging, but also the most rewarding. She says "there is no better feeling than when you finally understand a concept after putting in the work." Both of her physics classes, along with Regents Chemistry, AP US History, and AP Language and Composition, rank as Dobkin's favorite classes from her time at MHS.
Dr. Filippova, her AP Physics 1 teacher her Junior year, describes Dobkin as "one of the brightest and most hard-working students [she] has ever taught. She is a student who knows what she wants and will not stop until she reaches her goals." This sentiment is echoed by Mr. Porzio, Dobkin's Regents Chemistry teacher her Sophomore year. He found Dobkin to be "one of the kindest, most hardworking students [he] has ever had the pleasure of teaching. She was a positive influence in the classroom – she would finish her work quickly and would then assist her classmates if they were struggling." Dobkin's positivity was felt by all of her instructors, who emphasized not only her intelligence but kindness and unique sense of humor.
Beyond the classroom, Dobkin spent much of her time in the pool, swimming for Mamaroneck since the eighth grade and serving as captain of the girls' swimming team both her Junior and Senior years. "Gaby has been an essential team member since the day she tried out for the team," remarks Coach Ferguson. In addition to her time with Mamaroneck, Gaby also swam club for several years, worked as a lifeguard, and taught swim lessons.
On land, Dobkin ran the computer science club at Hommocks for two years, participated in Quiz Bowl her Senior year, and was a staff member of the Globe since the end of Freshman year, most recently serving as Co-Editorial Director.
Next year, Dobkin will attend the University of Pennsylvania where she plans on studying chemical and biomolecular engineering. After four years at MHS, Dobkin encourages students to take advantage of their time at the high school. "High school is the best time to pursue anything you find interesting or fun," she says, "because you may never get the chance again."
This year's Salutatorian, Kaitlin Spiridellis, has not only excelled academically, but has also established herself as one of the most caring students in this graduating class. Spiridellis's compassion and cheerfulness has allowed her to establish herself as a leader among her peers both inside the classroom and on the soccer field. Her counselor, Ms. Genwright, describes Spiridellis as "one of those people you want to spend time with" and "a young woman of impact who is going to make a difference wherever she goes."
In her years at MHS, Spiridellis was able to maintain this positive attitude while also taking on a rigorous course load, taking various AP classes including AP U.S. History, Physics 1, Language & Composition, BC Calculus, Literature, Spanish, Biology, and Macroeconomics.
While Spiridellis enjoyed almost all of her classes at MHS, the two that really stood out for her were Spanish and AP Physics.
Spiridellis enjoyed taking Spanish for all four years in high school, each year continuing to grow and learn with a relatively constant group of people. What sets Spanish apart for Spiridellis is how it allows her to communicate and understand others who speak fluent Spanish. Taking four years of honors/AP Spanish is often seen as one of the greatest challenges a student can face at MHS, but Spiridellis feels that in the end, her hard work paid off.
AP Physics A is another class at MHS that is seen as one of the most difficult, with the test having the lowest percentage of fives among all AP tests nationwide. For Spiridellis, AP Physics A was yet another challenge she was encouraged to face. Her teacher, Dr. Filipova, stated that Spiridellis always came to class "prepared, determined, willing to work hard and do well."
Many of Spiridellis's other teachers feel similarly. Ms. Albert, Spiridellis's AP Macroeconomics teacher, stated that, "You never hear Kaitlin complain, but she is always working hard behind the scenes and editing her work to make it stronger. Because of that, no matter how many edits you throw her way, her finished project is always extraordinary."
Outside of school, Spiridellis played Varsity Soccer all four years in high school, eventually serving as one of the team's captains. When reflecting on her time on the team, Spiridellis looks fondly on how her experiences taught her about leadership and allowed her to grow as a person. In her four years on the team, Spiridellis served almost every role there is, starting as a bench player her freshman year and eventually becoming one of the team's most important players. As a captain, Spiridellis sought success not only on the field, but off the field, stating that, "One of the things I love about soccer is that we work hard and push ourselves but also have a very supportive culture off the field." Her coach, Mr. Blain, described Spiridellis as "the catalyst of the team" and continued by stating "Kaitlin knows what needs to get done and just makes it happen." Kaitlin was rewarded for her efforts by being named All-League her Junior and Senior years and being named team MVP of the MHS squad this year.
This fall, Spiridellis will attend Vanderbilt University and is planning to major in human and organizational economics. She hopes to play club soccer there as well. She advises MHS students to, "find your people within the high school, because you remember your relationships way more than anything you can learn."